+ Larger Font | - Smaller Font
The Law Office of Brandon J. Fields, P.C.
1510 28th St.
Suite 205
Boulder, Colorado 80303
Ph: 303-449-5602
Fax: 303-339-3810
Click Here for Maps and/or Directions to our office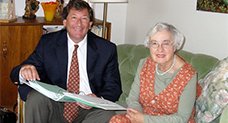 Elder law is a diverse practice of law focused on the needs of seniors, the disabled and their families. Legal solutions are found for the following types of issues:
Long term care planning

Medicaid planning and applications

Wills and Trusts

Powers of Attorney

Living Wills/Advance Directives

Guardianships and Conservatorships

Preventing Financial Exploitation of Vulnerable Adults

Review of Nursing Home and Assisted Living Admissions Contracts

Visit our frequently asked questions page for more in-depth information about the services above.
I work with seniors and the families of seniors at all stages of the planning process. Some families prefer to plan well in advance and others prefer to deal with issues as they arise, while some wait until a crisis occurs. I also work regularly with health care providers, financial planners and other experts for resolution of issues for seniors. These services may include planning for life choices that come with aging and sometimes major changes in health, counseling about changes in living arrangements or selection of independent living, assisted living or skilled nursing facilities, planning for disability and, end-of-life decision making or planning. When necessary, I provide my clients with home visits, hospital visits or nursing home visits. Unlike some planning attorneys, I can also see things through in court when necessary to obtain a guardianship or conservatorship, prevent or remedy a financial exploitation, or probate a client's estate. Many of my clients prefer knowing that they and their families can continue to work with me through all stages of the aging process.
RESOURCE LINKS
Jury in retrial convicts Julianna Rigby of trying to bilk elderly Boulder man (by Mitchell Byars, Boulder Daily Camera 8/16/2012)
Guidelines Allow Earlier Diagnosis of Alzheimer's by Pam Belluck (New York Times Website)
Preparing More Care of Elderly by Milt Freudenheim (New York Times Website)
Jan's Story: Love and Early-Onset Alzheimer's - CBS News
Please click here to contact me for a consultation.
Use of this website is subject to:
Terms and Conditions (Click Here)
This Site Is Powered By:


Copyright © 2011
The Law Office of Brandon J. Fields, P.C.